Catalogs

>

Product Overview: Sferic API Solutions
Catalog excerpts
EARTH NETWORKS' Product Overview INTEGRATE THE WORLD'S BEST WEATHER DATA INTO YOUR APPS Our Sferic API delivers real-time weather information, hourly forecasts utilizing high accuracy forecast models, and other top-notch weather data. By partnering with us, you'll have the flexibility to use the data in your applications and analytical models. Data requests are made to a REST API, enabling quick and easy integration, and you can choose from a wide range of options based on your volume and specific needs. OVERVIEW Earth Networks operates the largest real-time weather and lightning sensor network in the world using integrated data from global sources to deliver precise, accurate and reliable weather information. Our Sferic API delivers real-time weather information utilizing best performing models with the lowest margin of error and quality controlled weather data. BENEFITS Earth Networks has a Sferic API package to fit your needs, as well as Sferic Premium, a customizable option to meet other specific requirements.
Open the catalog to page 1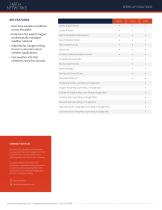 SFERIC API SOLUTIONS KEY FEATURES • Real-time weather conditions across the globe • Data from the world's largest professionally managed weather network • Map tiles for Google or Bing to use in your own visual weather applications • Fast weather info that refreshes every few seconds BASIC PLUS PRO 10 Day-Night Forecast Location Search Real Time Weather Observations Search Weather Station Sky Conditions Icons Station List US Alerts (National Weather Service) Air Quality Forecast (AQI) Hourly 6-Day Forecast Radar and Maps Sunrise and Sunset Times Ultraviolet Index (UV) Temperature Map Layer...
Open the catalog to page 2
All EARTH NETWORKS catalogs and technical brochures

Compare up to 10 products