Catalogs

>

Comprehensive Severe Weather Intelligence For Visitors And Staff
Catalog excerpts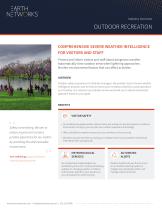 EARTH NETWORKS' Industry Overview COMPREHENSIVE SEVERE WEATHER INTELLIGENCE FOR VISITORS AND STAFF Protect and inform visitors and staff about dangerous weather. Automatically clear outdoor areas when lightning approaches. Monitor environmental factors that can affect activities. OVERVIEW Outdoor safety is paramount to facilities managers. We provide a host of severe weather intelligence products and services to ensure your recreational facility or park operations run smoothly. Our solutions are scalable and we work with you to determine the best approach based on your goals. • Our professional-grade weather stations track and analyze 25+ key atmospheric conditions. Know what's coming so you can plan your outdoor operations accordingly. • Offer a reliable live weather resource for your members and community. • Members can plan activities by visiting your website which has live weather and forecast information from your grounds. Safety is everything. We aim to reduce injuries and create a positive experience for our visitors by providing the safest possible environment. Trish Heffelfinger, Executive Director of the Maryland SoccerPlex n METEOROLOGICAL SERVICES Our professional meteorologists are available by phone 24/7 to provide breaking updates on changing weather conditions and forecasts specific to your location so you can prepare for what's coming. AUTOMATED ALERTS Outdoor facilities all over the US count on our Outdoor Alerting System to mitigate risk, standardize alerts, and manage outdoor activities.
Open the catalog to page 1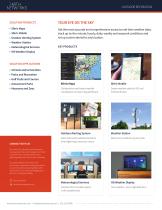 OUTDOOR RECREATION SOLUTION PRODUCTS YOUR EYE ON THE SKY • Sferic Maps • Sferic Mobile • Outdoor Alerting System • Weather Station • Meteorological Services • HD Weather Display Get the most accurate and comprehensive access to real-time weather data, track up-to-the minute, hourly, daily, weekly and seasonal conditions and set up custom alerts for any location. KEY PRODUCTS SOLUTION APPLICATIONS • Schools and Universities • Parks and Recreation • Golf Clubs and Courses • Amusement Parks • Museums and Zoos CONNECT WITH US For more than 20 years Earth Networks has operated the world's...
Open the catalog to page 2
All EARTH NETWORKS catalogs and technical brochures

Compare up to 10 products