Catalogs

>

Comprehensive Severe Weather Intelligence For Member Safety
Catalog excerpts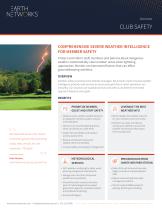 COMPREHENSIVE SEVERE WEATHER INTELLIGENCE FOR MEMBER SAFETY Protect and inform staff, members and patrons about dangerous weather. Automatically clear outdoor areas when lightning approaches. Monitor environmental factors that can affect groundskeeping activities. OVERVIEW Outdoor safety is paramount to facilities managers. We provide a host of severe weather intelligence products and services to ensure your golf club or resort operations run smoothly. Our solutions are scalable and we work with you to determine the best approach based on your goals. BENEFITS LEVERAGE THE BEST WEATHER INFO • Be the reliable live weather resource for your members and community. • Members can plan activities by visiting your website to access live weather and forecast information from your grounds. We have had some crazy storms come through and the streaming radar, texts, emails, etc. are awesome. The best! • Make accurate, weather-related decisions to safeguard members, guests, vendors and employees. • Get the most accurate lightning alerts, when and where you need them. • Make informed athletic and outdoor activity assessments. • Receive and disseminate severe weather alerts immediately. • Increase safety and property management. Matt McKeon, Golf Professional, Spring Lake Golf Club METEOROLOGICAL SERVICES PRECISION DATA FROM ONSITE WEATHER STATION • 24/7 weather monitoring for safety, event planning and grounds maintenance. • Manage risk in the face of inclement weather and uncertainty. • Around-the-clock access to the same team of meteorologists who support government agencies, recreational parks and professional sporting • Events and leagues. • State-of-the-art instruments provide highly accurate on-site precipitation date. • Reduce costs and optimize water management systems. • Plan for optimal effectiveness for seeding, fertilizing and sodding.
Open the catalog to page 1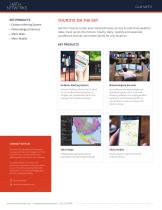 CLUB SAFETY KEY PRODUCTS • Outdoor Alerting System • Meteorological Services • Sferic Maps • Sferic Mobile YOUR EYE ON THE SKY Get the most accurate and comprehensive access to real-time weather data, track up-to-the minute, hourly, daily, weekly and seasonal conditions and set up custom alerts for any location. KEY PRODUCTS Outdoor Alerting System Outdoor facilities all over the US count on our Outdoor Alerting System to mitigate risk, standardize alerts, and manage their outdoor activities. Meteorological Services Our professional meteorologists are available by phone 24/7 to...
Open the catalog to page 2
All EARTH NETWORKS catalogs and technical brochures

Compare up to 10 products