Catalogs

>

Kaba 20
Catalog excerpts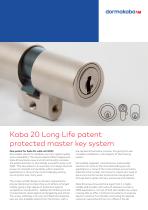 Kaba 20 Long Life patent protected master key system New patent for Kaba 20, valid until 2033 dormakaba stands for reliability, security, highest quality and sustainability. The new European Patent applying to Kaba 20 key blanks, keys and its functionality increases the patent duration on this already successful series until 2033. This new patent is an evolution of a design that has proven its strength and durability within industrial applications in some of the most challenging locking environments over many years. The unique cylinder design is precision engineered to precise tolerances incorporating up to 22 pins arranged radially giving a high degree of protection against surreptitious manipulation. Additional hardening can be incorporated to resist against prolonged physical attack. The unique milled key is strictly controlled and duplicate keys are only available directly from the factory with a pre-agreed authorisation process, this giving the user complete confidence in the integrity of their locking system. dormakaba engineers, manufactures, and provides solutions for some of the most demanding security applications in some of the most extreme environments. Kaba 20 is the number one choice for clients who need to secure and control access to personnel and equipment through doors, gates, barriers, enclosures and cabinets. Kaba 20 proves time and time again that it is highly reliable and durable, with years of extensive success in OEM applications. On top of that dormakaba are unique in being able to offer a technical consultancy to engineer specific solutions, functionality and suiting for bespoke customer requirements from our offices in the UK.
Open the catalog to page 1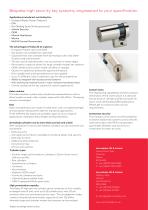 Custom locks The engineering capabilities and the compact dimensions of the insert allows it to be built into all kinds of cylinder profiles and locks for use in many demanding OEM applications. Please get in contact to discuss your requirements.. Investment security The modular construction and the possibility to extend master key systems and to retrofit mechanical keys with RFID transponders guarantees flexibility and secures your investment for years to come. dormakaba UK & Ireland Lower Moor Way Tiverton Devon EX16 6SS T: +44 (0)870 000 5625 F: +44 (0)870 000 5397 dormakaba UK & Ireland...
Open the catalog to page 2
All Dormakaba catalogs and technical brochures

Archived catalogs

Compare up to 10 products