Catalogs

>

digEcor

>

In-Seat Power
Catalog excerpts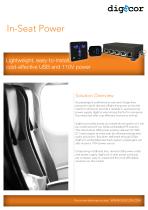 In-Seat Power Lightweight, easy-to-install, cost-effective USB and 110V power Solution Overview As passengers' preference to use and charge their personal mobile devices inflight has grown so has the need for airlines to provide a reliable in-seat personal power supply. digEcor was among the first to recognise this need and offer cost-effective choices to airlines. digEcor provides power as a stand-alone option or it can be combined with our Glide embedded IFE solution. The stand-alone USB power solution delivers 5V 10W (2.1 amp) supply at every seat by utilising existing seat audio provisions. But when delivered through Glide, digEcor's embedded seat back system, passengers can also access a 110V power source. Comprising a USB seat box, remote USB power outlet and power supply, digEcor's in-seat power products are compact, easy-to-install and the most affordable solutions on the market. For more information visit: WWW.DIGECOR.
Open the catalog to page 1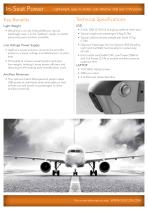 In-Seat Power Lightweight, easy-to-install, cost-effective USB and 110V power Technical Specifications Light Weight • Weighing in at only 0.4kg (0.8lb) per typical passenger seat, it is the 'lightest', ready- to-install personal power solution available Low Voltage Power Supply • digEcor's power solution converts the aircraft's power to a lower voltage and distributes it to each seat • This leads to a lower overall system and seat box weight, making it more power efficient and reducing or eliminating seat recertification costs Ancillary Revenues • The optional Cabin Management panel makes...
Open the catalog to page 2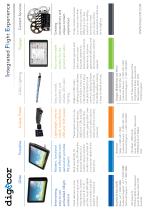 743 West, 1200 North Suite 100 (Suite 500 for deliveries) SPRINGVILLE UT 84663 USA 126 Vulture St (PO Box 5236 for deliveries) South Brisbane QLD 4101 Australia Passengers want to use their personal devices. digEcor's 110V and USB solutions provide that power, giving cabin crew control to select service seats and drive ancillary revenues. Americas Sales: +1-801-691-7224 Customer Service: +1-801-691-7232 Technical Support: +1-801-769-0001 Built specifically for airline use, NV offers the practical features of a custom device and the modern look and feel of a consumer tablet at the best...
Open the catalog to page 3
All DigEcor catalogs and technical brochures

Compare up to 10 products