Catalogs

>

Medical Lifter(Ambulift)
Catalog excerpts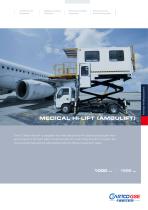 Baggage Handling Equipment Passenger Handling Equipment Electrical Ground Handling Equipment Passenger Handling Equipment Aircraft Service Equipment MEDICAL HI-LIFT (AMBULIFT) The CT series ambulift is designed and manufactured to lift disabled passengers from ground level to the main cabin of narrow body and wide body aircraft. It includes the truck-mounted type and the self-propelled type for different customers' needs.
Open the catalog to page 1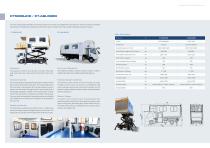 Passenger Handling Equipment The truck mounted type Ambulift are mounted on ISUZU truck chassis and available with many options to meet your specific operational requirements. This equipment is designed to withstand the airport complex environment, simply to operated and easy to maintain. Chassis Transmission Automatic (Allison) Overall Dimension(L×W×H) Front Platform Height from the Ground Front Platform Dimension(L×W) Front Platform Capacity Front Moveable Platform Capacity Rear Platform Capacity This equipment is able to serve all types of aircrafts: A300, A310, Rear Platform Lift Range...
Open the catalog to page 2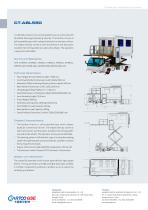 Passenger Handling Equipment CT-ABL580 model is the self-propelled type aircraft Ambulift (Disabled Passenger Boarding Vehicle). The bottom chassis is self-propelled type which adopts hydraulic transmission driven. The engine directly connects with transmission and the power transfers from driving shaft, rear axle to the wheels. The operation is easy and comfortable. IATA AHM904, AHM905, AHM910, AHM913, AHM915, AHM921, AHM979, GB/T31028-2014, JG5099-1988, GB7258-2004, etc. Technical Parameters ■■ Floor Height of Front Platform: 2200 ~ 5800 mm ■■ Front Fixed Platform Dimension (LxW):...
Open the catalog to page 3
All Cartoo GSE catalogs and technical brochures

Compare up to 10 products