Catalogs

>

Conveyor Belt Loader
Catalog excerpts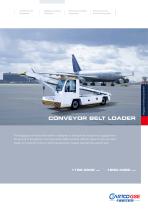 Baggage Handling Equipment Passenger Handling Equipment Electrical Ground Handling Equipment Baggage Handling Equipment Aircraft Service Equipment CONVEYOR BELT LOADER The baggage conveyor belt loader is designed to transport the cargo and luggage from the aircraft to the ground. Currently Cartoo GSE has three different types of conveyor belt loader for customer's choice: Self-propelled type, towable type and the electric type.
Open the catalog to page 1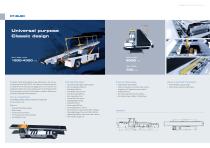 Baggage Handling Equipment Universal purpose Classic design Work height range Boom Length Belt Width The Model CT-BL80 Self-propelled Conveyor Belt Loader is the most up- Technical Parameters Cummins Diesel Engine Okamura Automatic Transmission to-date design from CARTOO GSE. The model is the universal type that ■■ Model: Y43280D, Japanese Origin is suitable for the aircraft cargo and luggage service in the airports. The ■■ Type: Four cylinders, Four strokes, Water coolant, ■■ Type: Hydraulic automatic transmission configuration adopts the mature vehicle parts from technology of both China...
Open the catalog to page 2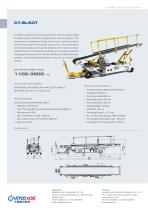 Baggage Handling Equipment CT-BL60T towable type conveyor belt loader is the up-to-date design for airport ground service by Jiangsu Cartoo Aviation Company. The equipment is equipped with high performance Japanese original Yanmar Diesel engine for hydraulic power source. The diesel engine drives the hydraulic pump to get the hydraulic oil for motor working to transfer the belt. The towable type design not only keeps the general traveling performance but also has the stability and reliability for easily operation with economy advantage for many small to medium sized airports. Unit service...
Open the catalog to page 3
All Cartoo GSE catalogs and technical brochures

Compare up to 10 products