Catalogs

>

Avidyne

>

AMX240
Catalog excerpts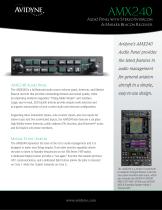 AMX240 Audio Panel with Stereo Intercom & Marker Beacon Receiver Avidyne's AMX240 Audio Panel provides the latest features in audio management for general aviation aircraft in a simple, AMX240 Audio Panel The AMX240 is a full-featured audio source selector panel, intercom, and Marker Beacon receiver that provides outstanding features and sound quality, while incorporating Avidyne's legendary "Flying Made Simple" user interface. Large, easy-to-read, LED backlit buttons provide simple mode selection and at-a-glance annunciation of your current audio and intercom configuration. easy-to-use design. Supporting three transmitter inputs, nine receiver inputs, plus two inputs for stereo music and five unswitched inputs, the AMX240 also features a six-place high-fidelity stereo intercom, public address (PA) function, plus Bluetooth® music and full-duplex cell phone interfaces. Making Flying Simpler The AMX240 represents the state of the art in audio management and it is designed to make your flying simpler. Dual radio monitor capability allows the pilot to listen to Standby frequencies on the IFD-Series VHF radios. A dedicated Replay button provides a "say again" function that repeats previous ATC communications, and a dedicated Split button allows the pilot to transmit on Com 1 while the Copilot transmits on Com 2. The AMX240 is a perfect complement to Avidyne's Entegra Release 9 and the new panel-mounted radio stack, which also includes the IFD540 & IFD440 FMS/GPS/NAV/COMs and AXP340 ADS-B Extended Squitter Mode S Transponder.
Open the catalog to page 1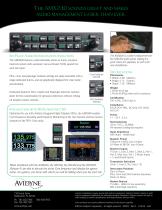 Six-Place Audio Intercom with Isolation The AMX240 features a pilot-selectable stereo or mono, six-place Intercom system with automatic voice-activated (VOX) squelch for each mic input. Pilot, crew, and passenger isolation settings are easily selectable with a single dedicated button, and are graphically displayed for clear mode annunciation. Dedicated knobs for Pilot, Copilot and Passenger intercom volumes allow for full customization for personal preferences without relying on headset volume controls. Crew Isolation selected The AMX240 is a slide-in replacement for the GMA340 audio panel,...
Open the catalog to page 2
All Avidyne catalogs and technical brochures

Compare up to 10 products