Catalogs

>

lezzon
Catalog excerpts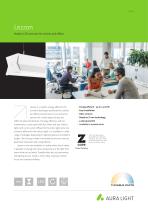 Lezzon Modern LED luminaire for schools and offices Lezzon is a modern, energy efficient LED luminaire developed specifically for schools • Easy installation and office environments. It is an attractive • DALI versions solution for a wide range of areas and • Based on Z-core technology offers the ideal combination of energy efficiency and low maintenance. Lezzon gives both 65% direct and 35% indirect • Available in tunable white light, with a micro prism diffuser for the direct light and a line prismatic diffuser for the indirect light. It is available in a wide range of wattages, depending on lighting need and installation The Z-core light engine is the platform for a family of luminaires. The core is made of extruded aluminium, which results in excellent cooling. height. The housing is made of extruded aluminium to ensure good heat dissipation and a long lifetime. Lezzon is now also available in tunable white, which makes it possible to change the colour temperature of the light from warm white to cool white. Tunable white lets you personalize the lighting to your mood or time of day, resulting in better focus and increased wellness.
Open the catalog to page 1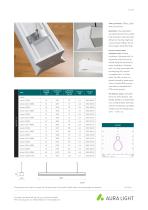 A P PLI C AT I O N S : Offices, public areas and schools. M AT E R I A L : Housing made of extruded aluminium for excellent heat dissipation. Micro prismatic diffuser for the direct light and a line-prismatic diffuser for the indirect light. White RAL 9016. I N S TA LL AT I O N A N D CO N N EC T I O N : Pendant installation. Delivered with 1 m suspension wires that can be moved along the luminaire for easier installation. Delivered with 2 m white main cable with earthed plug. DALI version is supplied with 2 m 5 lead cable. The DALI version can also be dimmed by phase pulse control. Tunable...
Open the catalog to page 2
All AURA LIGHT catalogs and technical brochures

Compare up to 10 products