Catalogs

>

EVOLUTION 1500
Catalog excerpts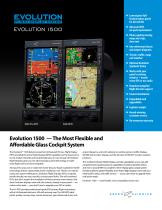 Photo-quality moving maps and crisp, clear text Geo-referenced charts and airport diagrams Terrain, traffic, maps and weather Optional Evolution Synthetic Vision Works with your panel's existing avionics — nearly every GPS or nav radio Broadest autopilot/ flight director support Easiest installation Lightest weight Award-winning customer service Advanced EFIS six-pack replacement Lowest price fullfeatured glass panel for GA retrofit No-nonsense warranty Evolution 1500 — The Most Flexible and Affordable Glass Cockpit System The Evolution™ 1500 delivers powerful, full-featured Primary Flight Display (PFD) and Multi-function Flight Display (MFD) capabilities at the lowest price on the market. Versatile and exceptionally easy-to-use, this pair of Evolution Flight Displays gives you the advanced glass panel technology to make every flight safer and more enjoyable. And your fly-away cost is made even lower because Aspen's patented retrofit technology delivers substantially lower installation cost. There's no need for costly new panel modifications; Evolution Flight Displays (EFDs) uniquely retrofit directly into your aircraft's six-pack panel holes. The self-contained EFDs also don't require the installation of heavy remote mount boxes. And since Evolution displays work with the avionics already in your panel — no matter what make — you don't have to upgrade your GPS or radios. The Pro PFD provides professional-grade EFIS primary flight instruments, with a full-featured electronic HSI with moving map. The 500 MFD adds photo-quality moving maps, terrain awareness, geo-referenced charts and airport diagrams, and (with optional or existing sensors) traffic displays, WX500 Stormscope® display, and the full suite of XM WX® aviation weather products. The modular Evolution Flight Displays are fully upgradable, so you can add comprehensive hazard awareness capabilities, Evolution Synthetic Vision, and even a second MFD to complete a three-display glass cockpit system. Evolution delivers greater flexibility since Aspen flight displays work with your existing GPS, radios, and traffic sensors — so you don't have to upgrade them until you're ready. Evolution 1500 — most flexible,
Open the catalog to page 1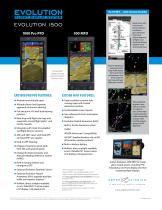 Easily zoom, pan, and see your present position overlaid on geo-referenced charts and airport diagrams. In flight, crosscheck positioning between chart and moving map. Enhance situational awareness with a large traffic display for busy terminal environments, and hi-res sectionalstyle map with your flight plan overlaid. PFD and MFD displays showing optional Evolution Synthetic Vision. alerter (and separate approach minimums alerting) resolution aviation style moving maps with hazard awareness overlays electronic HSI with dual bearing pointers map with flight plan legs and waypoints, curved...
Open the catalog to page 2
All Aspen Avionics catalogs and technical brochures

Compare up to 10 products