Catalogs

>

Precision Electroplated Products
Catalog excerpts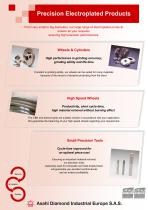 Precision Electroplated Products From very small to big diameters, our large range of electroplated products answer all your requests, ensuring high precision performances. Wheels & Cylinders High performance in grinding accuracy, grinding ability and life time Constant in grinding ability, our wheels can be suited for many materials because of the amount of abrasive protruding from the bond. High Speed Wheels Productivity, short cycle-time, high material removal without burning effect The CBN and diamont grits are suitably chosen in accordance with your application. We guarantee the balancing of your high speed wheels regarding your requirement. Small Precision Tools Cycle-time improved for an optimal piece-cost Ensuring an important material removal, our precision tools, especially used for composite and heat-treated steel, will guarantee you excellent performances and an evident profitability.
Open the catalog to page 1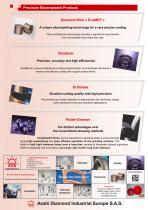 Precision Electroplated Products Diamond Wire « EcoMEP » A unique electroplating technology for a very precise coating This manufacturing technology provides a significant improvement over conventional slurry type wire saw. Bandsaw Precision, accuracy and high efficiencies Suitable for various materials and cutting requirements, our bandsaws will insure a recision and efficient cutting with a good surface finish. ID Blades Excellent cutting quality with high precision We provide you a wide selection of diamond grit size, thickness, shape, bond hardness for all your precision applications....
Open the catalog to page 2
All ASAHI DIAMOND INDUSTRIAL EUROPE SAS catalogs and technical brochures

Compare up to 10 products