Catalogs

>

One stop belt shop
Catalog excerpts
Ammeraal Beltech Innovation & Service in Belting One-Stop Belt Shop Ammeraal Beltech is a leading global company and a true One-Stop Belt Shop providing services and solutions to help process and convey an extraordinary range of products. Our success is based on our close cooperation with customers and the control we have over the full value chain - design, manufacturing, fabrication, sales and servicing. You can find all the belting products and services you need from Ammeraal Beltech, saving you time and money on purchasing and logistics. However you're conveying or processing, we can offer you the right The widest product range in the industry.
Open the catalog to page 1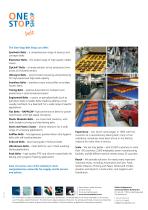 The One-Stop Belt Shop can offer: Synthetic Belts – a comprehensive range of process and conveyor belts Elastomer Belts – the widest range of high-quality rubber covers ZipLink® Belts – a handy solution to lost production time across all industrial sectors Ultrasync Belts – synchronized conveying and positioning for high-speed and high-load capacity Seamless Belts – seamless covers and profiles on endless woven fabric Timing Belts – positive-drive belts for transport and positioning in synchronised processes Engineered Belts – custom or specialised belts (such as pull-down belts or feeder...
Open the catalog to page 2
All AMMERAAL BELTECH catalogs and technical brochures

Compare up to 10 products