Catalogs

>

Amadeus FIDS
Catalog excerpts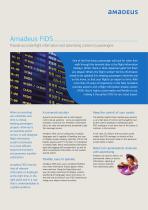 One of the first thing a passenger will look for when they walk through the terminal door is the flight information displays. Which check-in desk, departure gate? Are there any delays? What's the flight number? All this information needs to be updated live, keeping passengers informed and on the move, so that your flights can depart on time. With more than 25 years of experience in this field, Amadeus provides airports with a flight information display system (FIDS) that is highly customisable and flexible to use, making it the perfect FIDS for any sized airport. When surroundings are unfamiliar and time is critical, keeping passengers properly informed is an essential airport service. A well designed flight information system contributes to a more efficient airport environment and promotes traveller satisfaction. Amadeus FIDS ensures that all relevant information is displayed at the right time, in the right place and in a way that is understandable to a global audience. A universal solution Airports communicate with a multi-lingual, multi-cultural audience - some are experienced travellers, some are not. Therefore, information has to be clear and attractively presented to get the messages across. Amadeus FIDS can be configured to multiple languages and is capable of handling any type of display media including: split-flap, LCD or LED boards, plasma and TFT monitors. It is designed to display flight, delay and boarding information, gate and baggage belt assignments, as well as other travel/tourist information, at any location around airport. Flexible, easy to operate Amadeus FIDS gives users complete flexibility over what information should appear where, when and how. Using the Page Editor tool, you can easily customise the display screens, specifying the language, layout and colour, so that the look and feel of your FIDS matches the image your airport wishes to portray. Keep the control of your assets The Monitor Health Check module gives airports a very high level of control and traceability over all the screens deployed. A dashboard gives FIDS managers a real-time view of the status of monitors in the terminal. In the case of a failure, the log viewer would enable the FIDS manager to retrieve all the last activities that were made on this particular screen before it failed. Boost non-aeronautical revenues with advertising Displays can also be used to run promotional videos or tourist information, opening up new revenue channels from advertising sales.
Open the catalog to page 1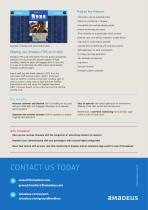 Product key features __ Information can be uploaded online __ eal-time monitoring of displays R __ ompatible with multiple display media C __ mbed advertising and videos E __ ime scheduler to automatically switch content T __ xternal input via interface, keypad or mobile device E __ igh level of customisation possible H Example of display with tourist information Keeping your Amadeus FIDS up-to-date Amadeus FIDS pulls information from the airport operational database and automatically uploads updates to flight schedules, departure gates and baggage belts in real-time. In a case of no data...
Open the catalog to page 2
All Amadeus IT Group SA catalogs and technical brochures

Compare up to 10 products