Catalogs

>

Obstruction Lighting M.I.
Catalog excerpts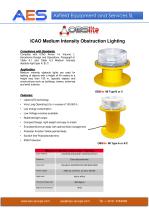 Airfield Equipment and Services SL ICAO Medium Intensity Obstruction Lighting Compliance with Standards. Complies with ICAO Annex 14, Volume 1, Aerodrome Design and Operations, Paragraph 6. Table 6.1 and Table 6.3 Medium intensity obstacle light type A; B; C. Application. Medium intensity obstacle lights are used for lighting of objects with a height of 45 meters to a height less than 150 m, typically objects and constructions such as buildings, towers, antennae and wind turbines OBSlite MI Type B or C Very Long Operating Life, in excess of 100.000 h. Low Voltage versions available Stabilized light output Compact Design, light weight and easy to install Extruded Aluminum body with optimal heat management Polyester Aviation Yellow painted body Scratch free Polycarbonate lens IP65 Protection OBSlite MI Type A or A/C Medium Intensity obstruction lighting Case material Anodized and powder coatetaluminum Case color Standard: AVIATION YELLOW (RAL 1004) Power supply Light color Horizontal dispersion
Open the catalog to page 1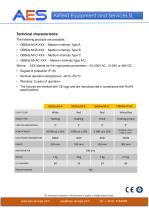 Airfield Equipment and Services SL Technical characteristics: The following products are available: • OBSlite MI-A-XXX - Medium-intensity Type A • OBSlite MI-B-XXX - Medium-intensity Type B • OBSlite MI-C-XXX - Medium-intensity Type C • OBSlite MI-AC-XXX - Medium-intensity Type A/C Where: - XXX stands for the input power parameters: 110-230V AC, 12-24V or 48V DC • Degree of protection IP: 65 • Nominal operation temperature: -40 to +50 °C • Warranty: 2 years of operation • The fixtures are marked with CE logo and are manufactured in compliance with RoHS specifications OBSlite MI-AC LIGHT...
Open the catalog to page 2
All AES AIRFIELD EQUIPMENT & SERVICES SL catalogs and technical brochures

Compare up to 10 products