Catalogs

>

SPATIAL DUAL
Catalog excerpts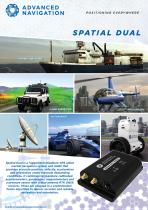 POSITIONING EVERYWHERE ADVANCED NAVIGATION Spatial Dual is a ruggedized miniature GPS aided inertial navigation system and AHRS that provides accurate position, velocity, acceleration and orientation under the most demanding conditions, it combines temperature calibrated accelerometers, gyroscopes, magnetometers and a pressure sensor with a dual antenna RTK GNSS receiver. These are coupled in a sophisticated fusion algorithm to deliver accurate and reliable navigation and orientation.
Open the catalog to page 1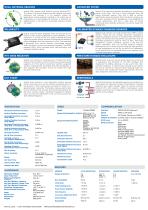 ADVANCED FILTER DUAL ANTENNA HEADING Spatial Dual features dual antenna moving baseline RTK. This allows it to provide highly accurate heading while both stationary and moving. It Is an excellent choice for applications where magnetic heading Is not usable due to interference or where additional accuracy is required. An added benefit is the ability to accurately measure vehicle slip angle. Spatial Dual contains Advanced Navigation's revolutionary sensor fusion filter. The filter is more intelligent than the typical extended kalman filter and Is able to extract significantly more Information...
Open the catalog to page 2
All Advanced Navigation catalogs and technical brochures

Compare up to 10 products