Catalogs

>

FLYER_Spatial
Catalog excerpts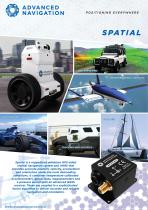 POSITIONING EVERYWHERE SPA TIA L Spatial is a ruggedized miniature GPS aided inertial navigation system and AHRS that provides accurate position, velocity, acceleration and orientation under the most demanding conditions. It combines temperature calibrated accelerometers, gyroscopes, magnetometers and a pressure sensor with an advanced GNSS receiver. These are coupled in a sophisticated fusion algorithm to deliver accurate and reliable navigation and orientation.
Open the catalog to page 1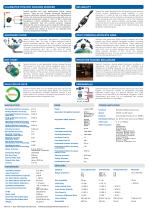 CALIBRATED DYNAMIC RANGING SENSORS Spatial contains very high performance MEMs inertial sensors. These are put through Advanced Navigation's intensive calibration process to Increase their performance further still and provide consistently accurate data over an extended temperature range of -40°C to 85*C. Advanced Navigation's custom calibration process is the only full sensor calibration that can provide dynamic ranging, allowing the user to select a sensor range for high accuracy or high accelerations on the fly. As part of this calibration, every Spatial unit spends 8 hours in our...
Open the catalog to page 2
All Advanced Navigation catalogs and technical brochures

Compare up to 10 products